Have Fun at Kaohsiung's Themed Parks!
◎Written by Wang Ting-yuan
◎English Translation by Lin Yu-ciao
◎Photos by Carter


When they arrive in a metropolis, first-time visitors are often struck by the city's street-level scenery. In this respect, Kaohsiung's themed parks have recently become highlights. The city government's efforts to integrate playing space and structures in some parks, while turning others into wetland parks, are being well received by residents and outsiders alike.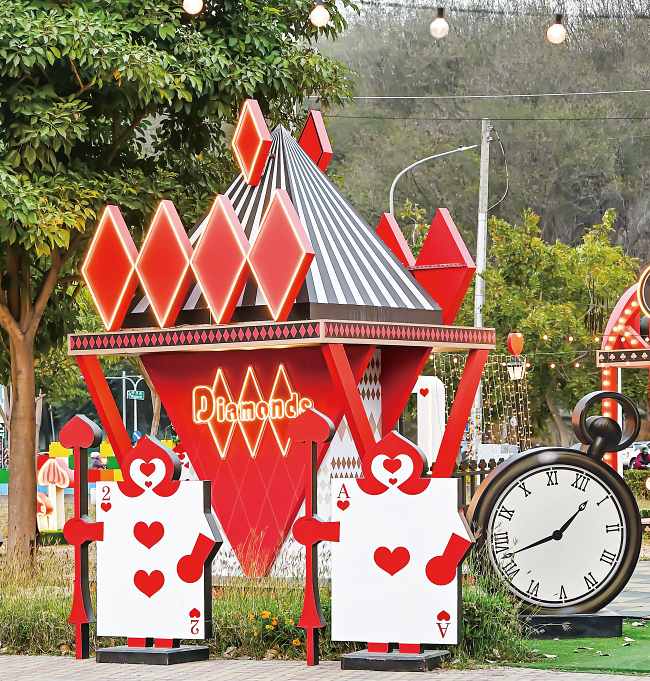 Siaogang Pingfong Park (小港坪鳳公園) boasts Kaohsiung's longest slide. Sliding from the top to the bottom of this 22m-long feature definitely gets your adrenaline flowing!

Located in Sanmin District, Baoyeli Flood Detention Pond Park (寶業里滯洪池公園) has a 190m-long balance bike track. To help children better balance their hands and feet, various surfaces, such as curves and continuous slopes, have been constructed in accordance with the terrain.

When visitors arrive at Lianchitan Children's Park (蓮池潭兒童公園), they may feel as though they have entered Alice in Wonderland, as the park gives children an opportunity to explore a fairy-tale world with great enthusiasm.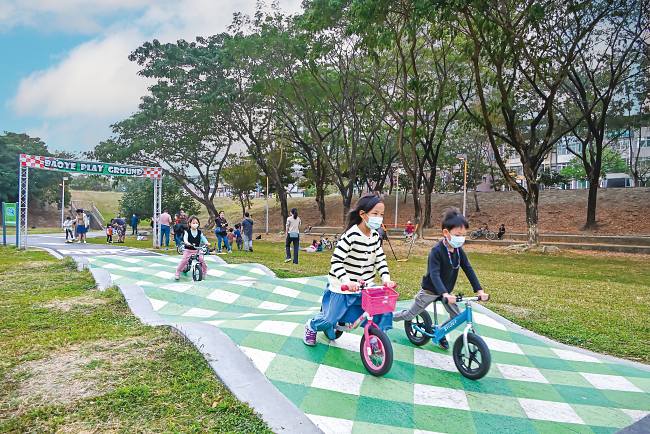 The 77th Phase Urban Land Readjustment Area No. 12 Park (77期市地重劃區公12公園) in Fongshan District has a robot-themed playground. Children bustle among the spiral slides, robot telescopes, and climbing nets. Even after playing all day, they still shout out that they do not want to go home.

To pay tribute to the local time-honored folk activity Gangshan Lanzhuo Fair (籃籗會), bamboo-themed play structures have been set up in Gangshan Riverbank Park. These allow kids to play while learning about the local bamboo culture.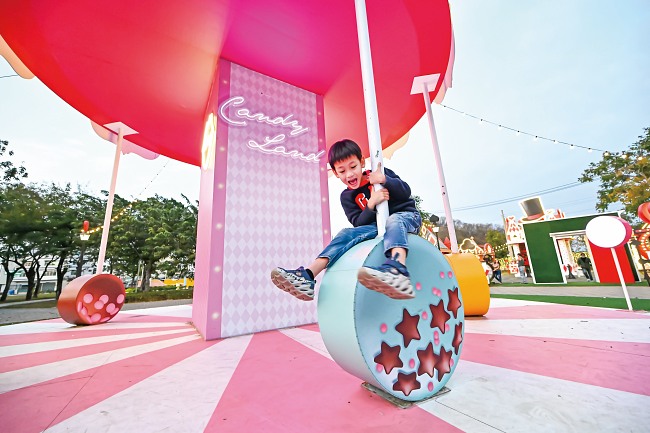 Kaohsiung's wetlands exhibit diverse natural landscapes. Among them, Jhongdu Wetland (中都濕地) has a rich mangrove ecosystem, while Linyuan Ocean Wetland (林園海洋濕地) is famous for its population of "upside-down" jellyfish. Zuoying Jhouzai Wetland (左營洲仔濕地) attracts pheasant-tailed jacana birds and Yuanjhong Harbor Wetland (援中港濕地) is inhabited by brown land crabs (Cardisoma carnifex).

Themed parks known for their breathtaking landscapes include Dadong Wetland Park (大東濕地公園), Weiwuying Metropolitan Park (衛武營都會公園), Youchang Forest Park (右昌森林公園), She Zih Lin Basin Wetland Park (檨仔林埤濕地公園), and Agongdian Forest Park (阿公店森林公園). Jogging, walking, or cycling in one of these parks is sure to leave you feeling refreshed and invigorated.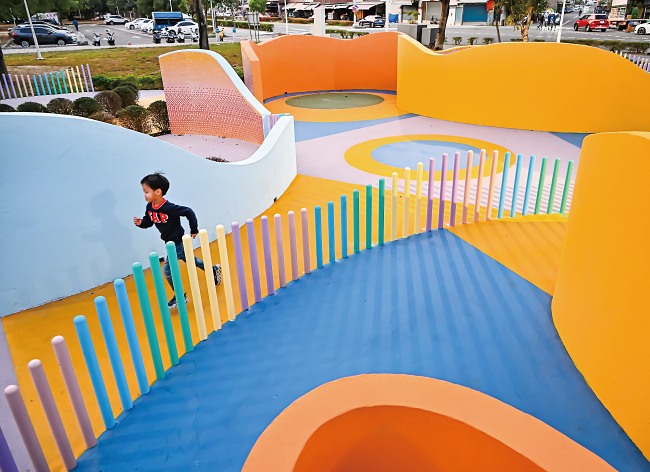 Jhongdu Wetland 中都濕地
Get off at Light Rail Makadao Station(C19) and walk for about 10 minutes.

Dadong Wetland Park 大東濕地公園
Exit 1, Dadong Station, Orange Line, MRT

Weiwuying Metropolitan Park 衛武營都會公園
Exit 6, Weiwuying Station, Orange Line, MRT

Read more Love Kaohsiung articles
TOP


「愛水保綠健走」水土保持親子活動
5月為水土保持月,為讓民眾愛護大地重視水土保持工作,高雄市政府水利局訂於今 (112) 年5月27日上午9時到12時於壽山動物園親水廣場舉辦「愛水保綠健走」水土保持宣導活動,邀請小朋友跟爸爸媽媽一起來壽山動物園,一邊親近大自然觀賞可愛動物一邊吸收水土保持知識,歡迎一起共襄盛舉!…


•老年人憂鬱症危機高!專家:預防自殺「一問二應三轉介」
台灣知名雕塑家朱銘驚傳久病辭世,享壽85歲。根據董氏基金會2016年調查,71至80歲老年人,有明顯憂鬱情緒需專業協助者占12.4%,包括活得愈久,對生活健康沒信心、環境不佳等,愈顯憂鬱。台北榮總老年精神科主任蔡佳芬表示,可以從語言、行為、睡眠和胃口四大方向觀察是否有憂鬱傾向。

•五月升息 殖利率翻身股
美國聯準會五月升息,若如市場預期升息一碼至5.2%,那麼股市應該波動不大,如果超出預期,有可能再次造成資金排擠效應,影響大盤短線走勢。大盤指數如此,個股又如何?除了金融股暫不碰外,當然高現金殖利率股是首選,尤其是今年有機會在業績表現亮麗,來年配息率可望大幅翻身的個股,最值得注意。