Enjoy Cool Forest Baths in Tengjhih National Forest Recreation Area
◎Written by Li Siao-ping
◎Translation by Lin Yu-ciao
◎Photo by Lai Jian-yu
◎Photos by Cindy Lee

  Thanks to its moderate summertime temperatures of 18 to 21 degrees Celsius, Tengjhih National Forest Recreation Area(藤枝國家森林遊樂區)is a well-known escape from the scorching heat of central Kaohsiung. It takes only two hours to drive from downtown Kaohsiung to this idyllic woodland, where you can breathe in cool, fresh forest air.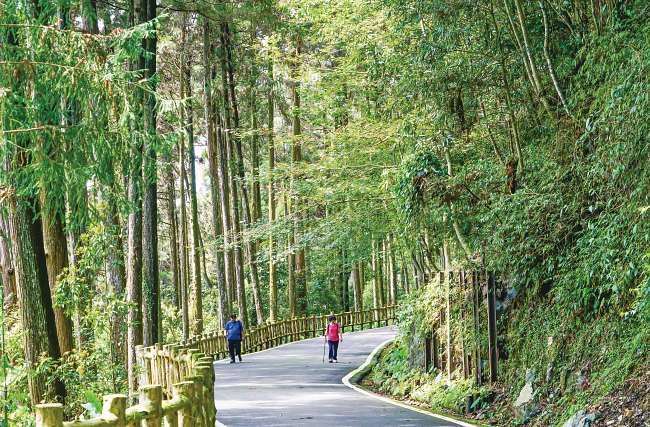 The area's abundant moisture sustains a rare tropical broadleaf mist forest that is home to a variety of plant species and a habitat for numerous animals. Lai Ming-cing(賴明慶), one of the recreation area's staff members, shares his daily experience. "Some of my colleagues have seen black bears on the forest trail, and I've encountered Formosan serows in the parking lot," he says, the latter being an endemic bovid species.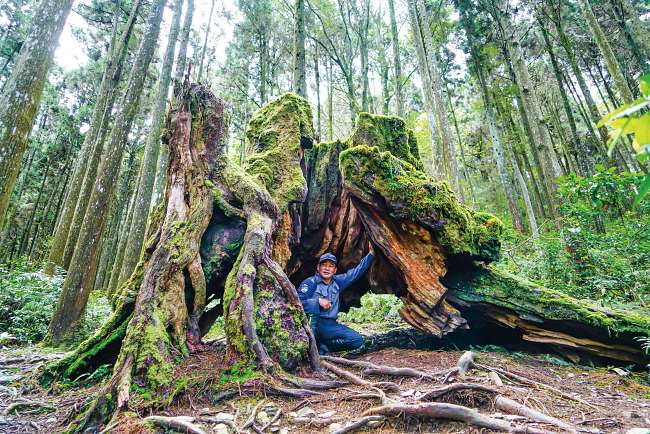 Within the forest recreation area, there are four trails, and each has its own distinct character and unique features. Perhaps the most representative is the Begonia Trail(秋海棠步道), where nearly half of Taiwan's native begonia species can be found, including the Tengjhih Begonia(藤枝秋海棠)named for this location. The Begonia Trail gradually ascends to an observatory located 1,804 meters above sea level. On clear days, distant ridges are clearly visible, forming a layered and seemingly endless picturesque mountainscape.

  The Spruce Trail(雲杉步道)is shorter, and along it you can see the Plank Road Demonstration Area(木馬道示範區), which shows how logs were moved in the mountains. The first section of the Rhododendron Trail(西施花步道)was formerly part of the Liouguei Police Patrol Road(六龜警備道), built during the 1895-1945 period of Japanese rule by the colonial authorities to prevent indigenous communities from obstructing Japan's exploitation of forest resources. Hikers can see tree shadows gracefully falling across the mottled stone riprap and remains of old police stations. At the end of the trail lies a towering Amygdalate-leaved Tanoak(苦扁桃葉石櫟), the buttress root of which is an awesome height, nearly two meters.

  The Sea of Trees Trail(樹海步道) is the most accessible and suitable trail for people of all ages. Along the wide and flat gravel path, dense cypress trees form a natural green barrier. The melodious calls of the Taiwan yuhina(冠羽畫眉)and Formosan lesser scimitar babbler(小彎嘴畫眉)resonate, forming a birdsong symphony that blends seamlessly with nature. 

  In 2009, Typhoon Morakot devastated the mountain areas of southern Taiwan, and the only access road to Tengjhih collapsed. After years of restoration, the forest recreation area is now open for visitors without any need to make prior reservations. However, due to damage to the access road, visitors are required to walk an additional one kilometer from the parking area to the entrance. If possible, visitors should allow enough time for both an ecological tour and to enjoy forest bathing. Understanding Tengjhih's past helps us better appreciate this hard-earned forest sanctuary.


Tengjhih National Forest Recreation Area
藤枝國家森林遊樂區
No. 150, Baoshan Ln., Baoshan Vil., Taoyuan Dist., Kaohsiung City
Opening hours: 8:00~17:00 daily
Website: https://reurl.cc/b929xo

Read more Love Kaohsiung articles
TOP


Ibu Kitchen: Delectable Cuisine with Mountain Flavors
◎Written by Naru
◎Translation by Lin Yu-ciao
◎Photo by Carter
◎Photos by Naru

  Located in Meinong Hakka village(美濃客家庄), Ibu Kitchen (阿香的廚房)was featured in the 2023 Michelin Guide. It serves creative indigenous Taiwanese cuisine. The spacious interior is adorned with white tables and chairs, complemented by green plants hanging along the walls and a small outdoor garden. A Siang(阿香), a chef from the Bunun tribe, previously ran a restaurant and guesthouse in Tengjhih(藤枝). Due to the devastating Typhoon Morakot, she relocated with her family to Meinong, where she started afresh. A Siang skillfully serves up refreshing and innovative indigenous cuisine.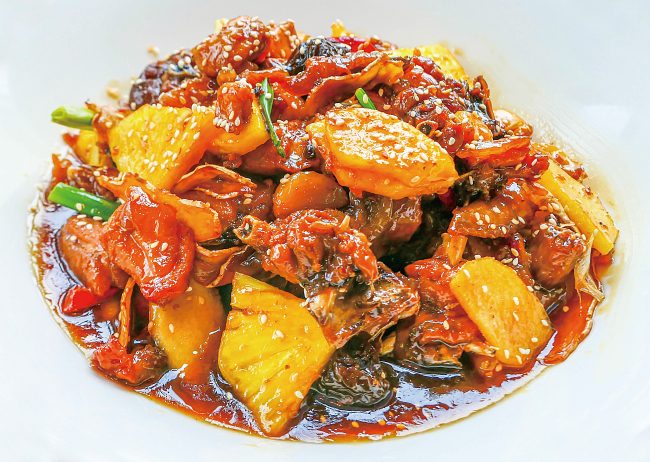 Growing up in an indigenous tribe, A Siang jokingly mentioned that she had previously only known how to grill meats and make soup. When she became concerned about her family's health, they returned to the tribe to cultivate organic vegetables. It was then that she began to explore healthier cooking methods. She began by attending culinary classes, gained insight into cooking, and even won the national championship in a culinary competition. She then went to China to learn about the Eight Great Cuisines and skillfully incorporated the techniques into indigenous dishes.
  


   One of the must-try signature dishes at Ibu Kitchen is the popular Plum-Apple Chicken. It features tender free-range chicken stir-fried with Baolai's(寶來)perilla plums to create gelatinous collagen. Each piece of chicken is coated with a delightful blend of sweet and sour plum flavors. Just before serving, pineapple and apple are added to the wok and then stir-fried, creating a rich, sweet, sour, and crispy culinary experience. Another notable dish is the Plum Sauce Tofu, which utilizes three-year-old perilla plums. The plums are minced and simmered with plum juice for an hour before adding green plum essence, creating the perfect egg and tofu combination.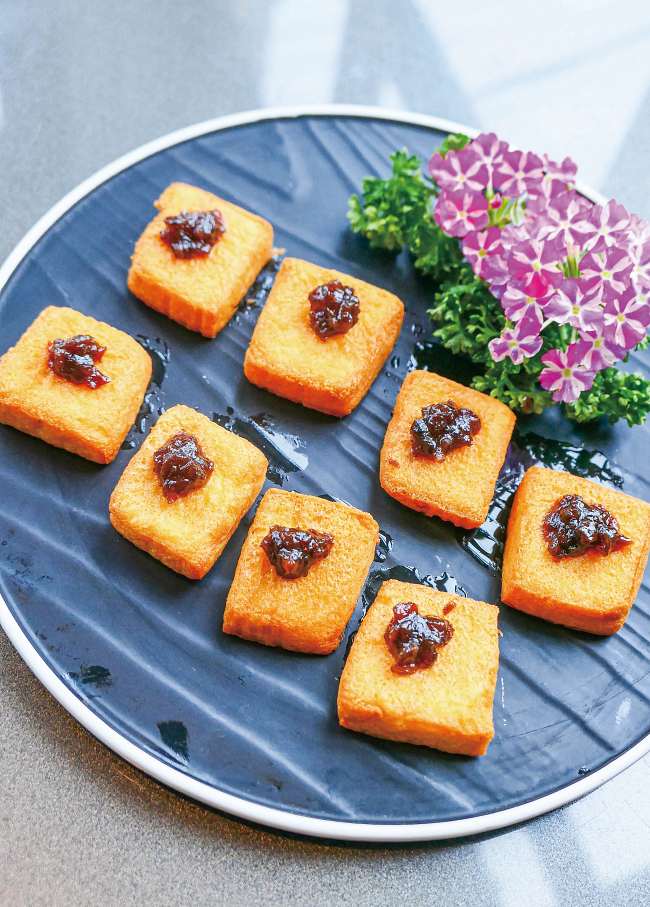 A Siang says, "To make the dishes even more delicious and to highlight the mountain flavors, she incorporates ingredients such as ailanthus prickly ash, Mountain Litsea, and sweet potatoes." Pork is grilled and pickled using Mountain Litsea, cumin, and pepper, and traditional small rice dumplings are transformed into sushi-sized portions. They are served with sergestid shrimp sauce to enhance the fragrant aroma of the rice. The fried river prawn dish is fresh, sweet, and crispy, making it an irresistible delectable treat.  

   Ibu Kitchen incorporates wild vegetables, herbs, and mountain tea grown on the mountainside, transforming them into delectable dishes. The kitchen embraces the natural and rustic ambiance while featuring aboriginal cultural cuisines.
   
Ibu Kitchen
阿香的廚房
No. 635, Sec. 2, Jhongshan Rd., Meinong Dist., Kaohsiung City
Fb:阿香的廚房 ibu Kitchen
Read more Love Kaohsiung articles
TOP


高雄市榮獲宜居永續城市獎 打造創新、智慧與永續港都
由「台灣永續能源研究基金會」舉辦的「2023永續行動博覽會」,將該會最高榮譽—「宜居永續城市獎」頒給高雄市政府,今日上午羅達生副市長代表陳其邁市長北上受獎,並於該基金會舉辦的「亞太永續高峰會」發表演說,分享市府團隊永續治理城市的經驗。…