Kaohsiung's New Cruise Terminal

  The whale-shaped Kaohsiung Port Cruise Terminal(高雄港旅運中心) has become the city's new landmark. The inauguration ceremony was celebrated on March 6th of this year, with the first international cruise ships visiting the harbor since the COVID-19 pandemic began. It was celebrated as the Port of Kaohsiung's (高雄港) reopening to welcome the world back to its shores.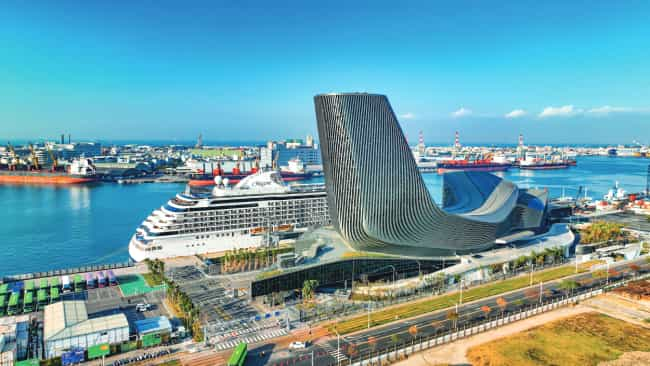 Reiser + Umemoto, RUR Architecture DPC, and local architectural firm Fei & Cheng Associates (宗邁建築師事務所) were the designers that worked on the project. Kaohsiung Port Cruise Terminal was built with a steel frame structure. It has two underground and fifteen above-ground floors. The multiple arcs were built to resemble waves, with a bright and light atmosphere inside. The terminal can accommodate 250,000-ton cruise ships.  
  A boardwalk on the third floor provides breathtaking panoramic views of the port. Therefore, it has become Kaohsiung's newest scenic spot, where visitors can enjoy a waterfront stroll. On one side, visitors can enjoy views of the Kaohsiung Pop Music Center (高雄流行音樂中心), and on the other, they can look down and watch the cruise ships coming into the terminal and docking.
※The First Cruise Ships to Dock at the Terminal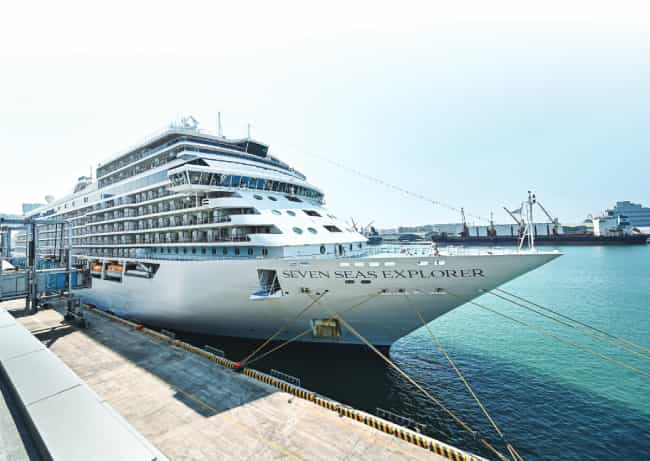 Taiwan welcomed the first two cruise ships to dock at the new Kaohsiung Port Cruise Terminal. One of these ships was the Seven Seas Explorer cruise ship (七海探索者號). It was also the first to be moored in the brand-new Kaohsiung Port Cruise Terminal and had about 600 passengers onboard. The other ship was the Westerdam (威士丹特號), which docked nearby at the Penglai Cruise Terminal (蓬萊旅運中心).
   Traveling on the Seven Seas Explorer was a couple from Texas. It was their first time visiting Taiwan. While in town, they went to Fo Guang Shan Buddha Museum (佛光山佛陀紀念館), Lotus Pond (蓮池潭), and other attractions in Kaohsiung. They enjoyed Lotus Pond's Dragon and Tiger Pagodas (龍虎塔) and learned they would get good luck if they entered through the dragon's mouth and exited from the tiger's mouth! They also went to Meinong (美濃) and had Hakka (客家) cuisine for lunch, which they thought was extremely delicious!
   Sachs and Artmento from California visited the Kaohsiung MRT Formosa Boulevard Station (捷運美麗島站) to see the "Dome of Light (光之穹頂)," an artwork created by renowned Italian Artist Narcissus Quagliata, who spent nearly four and a half years working on it. They were stunned and thought it was the most gorgeous glass artwork ever created in the world! "


Travel Info:
To get to Kaohsiung Port Cruise Terminal, take the Circular Light Rail and get off at the Cruise Terminal Station(C9)
Read more Love Kaohsiung articles
TOP


Ba Jia Jiang: A Distinctive Religious Tradition in Taiwan

  Gushan Diyue Temple (鼓山地嶽殿) in Kaohsiung serves as a belief center for many local people. Ji Sheng Tang Ba Jia Jiang (吉勝堂八家將), a jhentou (陣頭) group famous for preserving and popularizing the tradition known as Ba Jia Jiang, was officially recognized as an intangible cultural heritage of Kaohsiung in 2019. This February, the troupe participated in the prestigious 2023 Carnaval de Nice (2023年法國尼斯嘉年華) in France, where this unique Taiwanese culture shone on an international stage and stunned a global audience.
  Ba Jia Jiang serve as guards for the gods, clearing the way during religious processions by capturing evil spirits and banishing demons before the god arrives. Ji Sheng Tang Ba Jia Jiang was established in 1949. Their master, Lin Mu (林木), imparted key knowledge of steps, movements, and formations to the performers.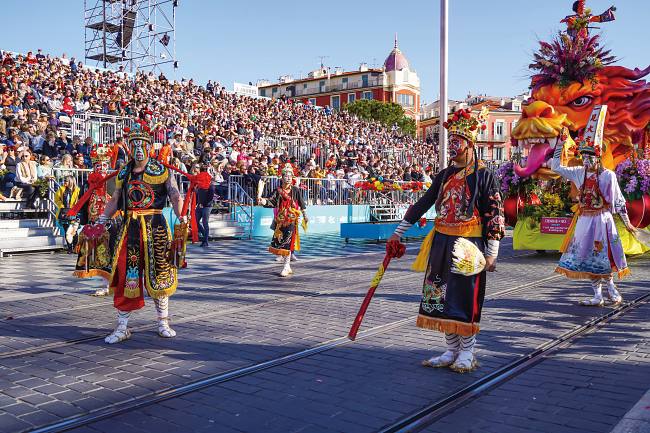 The troupe currently consists of eleven members in their 20s including: Singjyuye (刑具爺); the generals surnamed Gan (甘), Liou (柳), Sie (謝), and Fan (范); General Spring (春神), General Summer (夏神), General Autumn (秋神), and General Winter (冬神); Wunchaiye (文差爺) and Wuchaiye (武差爺). The generals adhere to tradition, strictly observe discipline and taboos, and practice regularly on Saturdays. In the three days before each procession, they are expected to abstain from meat and sex. They also have to inform Judge Deity Lifu Dashen (李府大神) after getting their faces painted and before beginning the procession. After that, they are expected to remain silent. In addition, drinking and eating are prohibited, not to mention smoking or chewing betel nuts.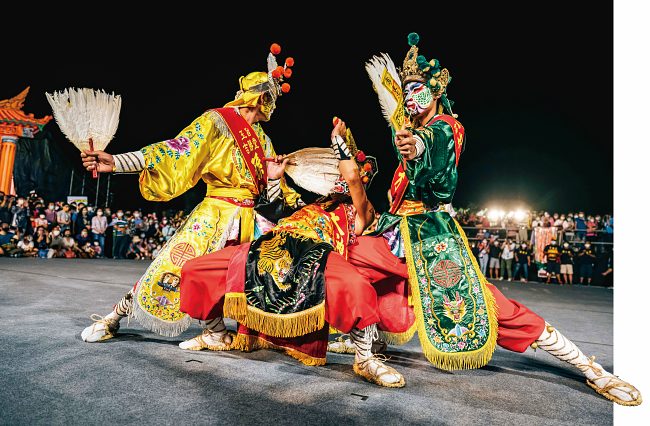 To make this distinctive tradition more visible, the troupe has participated in several recent cultural activities. In 2021, the generals met the Mazu of Fong Yun Temple (鳳芸宮) during the pilgrimage. This February, they were invited to participate in the 2023 Carnaval de Nice in France, receiving applause and acclaim.
   When troupe members were asked how they felt about going to France to perform, Jiahao (家豪) said: "After we dress ourselves, we had the self-consciousness of generals. This momentum and pride did not come only after performing abroad. We are always proud of being generals." Yiyuan (奕元) added: "Even if foreigners like us a lot, the most important thing is to raise people's awareness about local folk culture." Troupe leader A-Ci (阿棋) said in a serious tone that, "I just want everyone to know that it's a privilege and an extreme honor to become a general." .


Gushan Diyue Temple
No. 20, Ln. 103, Hechuan St., Gushan Dist., Kaohsiung City (near the Circular Light Rail's Gushan District Office Station (C17))
Read more Love Kaohsiung articles
TOP


文化成年禮金結合高雄啤酒音樂節 可享票價優惠再憑票根換好禮
文化部推出「文化成年禮金」政策,18至21歲的年輕朋友可領取1,200點「成年禮金」,可折抵藝文消費。高市府也同步加碼,將今年暑期強檔「2023高雄啤酒音樂節」納入文化成年禮金消費範圍,使用文化成年禮金購買限定7月7日活動2023高雄啤酒音樂節首日門票可享票價優惠只要649元(原價799元),憑7月7日成年禮優惠票根還可以在啤酒音樂節活動現場7-11超商館攤位,換取一杯CITY TEA現萃茶,享優惠再換好禮,共同歡慶成年禮。…


•躲藏林道小徑間的眺望祕境 搭乘小船探訪台版魔戒洞窟
蘭陽平原清爽的初夏微風襲來,展開一段綠意盎然清新之旅,更可登高遠望冬山河出海口與龜山島,徹底擁抱自然,體察身心靈的解放。想跟冬山河更近距離接觸的另類體驗方式,就到河左岸的「生態綠舟」一遊,旅人能夠搭上小舟悠悠哉哉享受漂流水上的樂趣。

•英文面試前的「猜題」策略
擅長商業溝通的Riley老師做過無數場英文模擬面試,還幫學生總結出一個能回答所有面試問題的基本規則:2個事實+1個想法。讀完這篇文章,開始改變想法,英文面試不再手忙腳亂。